What's Behind These Rapper Names?
7 May 2010
607 views
3 Comments
Sometimes it's kind of ridiculous when rappers aren't creative enough to come up with a clever rap name. 50 Cent, Rick Ross and Scarface are just a few examples.  Not taking away anything from their talent; these guys have sold millions of records and had everyone dancing to their music, just saying, a little creativity when coming up with a rap name would be much appreciated.
It's easy to name yourself after a gangster for example, Tony Montana aka "Scarface" from the 1983 Brian Depalma directed movie about a Cuban man's rise from rags to riches in his takeover of the drug trade. Eminem, Kanye West, and Lloyd Banks are all artists that kept their name, flipped their name or came up with a creative moniker for themselves. So what's behind these rapper names?
50 Cent "Curtis Jackson"from Jamaica Queens, NY
N.O.R.E. or Norega, Victor Santigo Jr., Rapper from Queens,NY & other half of group Capone-N-Norega.
Manuel Noriega, the general and former military leader of Panama.Noriega was tried  on eight counts of drug trafficking, racketeering, and money laundering in April 1992.
Kiam Akasi Holley aka Capone, the other member of Capone-N-Norega, got his his name from famed 1930′s gangster Al Capone.
Scarface better known as Brad Jordan, famed Houston, TX rapper and member of the Geto Boys.
Antonio Montana, "Scarface" played Academy Award winning actor Al Pacino. The story of a Cuban immigrant that climbed up the ranks through the drug game and became the most powerful man in Miami.
Tony Yayo, aka Marvin Bernard, rapper from Jamaica Queens, NY and famed member of G-Unit. Again we see here the Scarface connection, Tony Montana and the Spanish word for Cocaine "Yayo".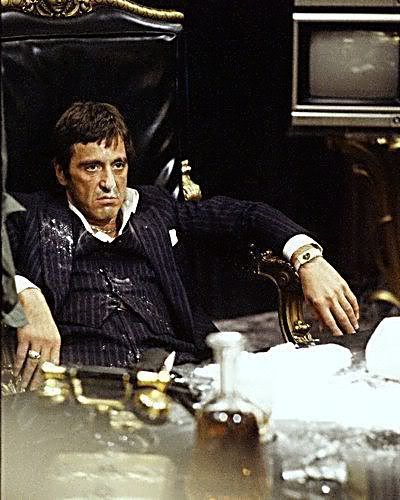 Styles P, David Styles, the Yonkers, NY MC is known for his gritty street rhymes as part of the group The L.O.X., The P stands for his two favorite actors Al Pacino & Robert De Niro hence Styles Paniro.
Rick Ross, aka William Leonard Roberts II, The Miami MC has been doing it for a while and his fame has hit epic heights. But he got his name from…
The Real Rick Ross was a drug trafficker best known for the "drug empire" that he presided over in Los Angeles, in the early 1980s.
Lil Cease, better known as James Lloyd, Brooklyn, NY rapper and member of 90′s super group Junior Mafia and cousin of famed rapper the Notorious B.I.G. Theory is he got his name from the Edward G. Robinson old time black & white gangster movie Lil Caesar.
French Montana, real name Youness Messoud Guled, straight outta Rabat, Morocco and raised in the Mott Haven section of the Bronx, NY. Theory is his name is a combination of Tony Montana from Scarface and a movie from the 1970′s called The French Connection starring Gene Hackman a NYC cop that chases a French drug dealer and his connections throughout the city.
PARTNER LINKS: