Apple's iPhone Revenues More Than All Of Microsoft
10 September 2012
115 views
No Comment
iPhone vs. Microsoft
With the unveiling of the iPhone 5 expected to come Sept. 12, we were wondering: Just how big is the iPhone?
On its own, Apple's iPhone business would be a Fortune 50 company.
It's also bigger than all of Microsoft (MSFT, Fortune 500). Not just Windows or Office — the iPhone generated more sales than the entirety of Microsoft's product lineup over the past four quarters.
Microsoft famously got kicked to the curb in the smartphone race by Apple (AAPL, Fortune 500) and subsequently Google (GOOG, Fortune 500). It's been forced to play catchup ever since … so far unsuccessfully.
Had Microsoft played its cards better five years ago, would it have been twice the size it is today? And would Apple be half as big? That seems unlikely, but what's clear is that the iPhone is the most business-crucial product Apple has ever released.
iPhone vs. iEverything else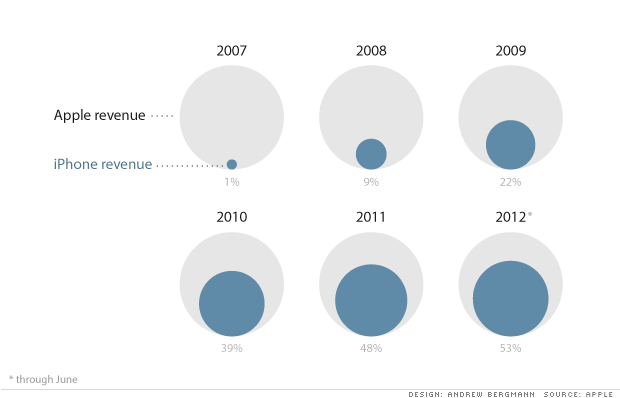 The iPhone is now the source of more than half of Apple's overall sales. Add up all the revenue brought in from the Macintosh, the iPad, the iPod, iTunes, and the 30% cut Apple gets on apps sold in its App Store, and that still doesn't reach the amount it rakes in on the iPhone.
In the first six months of this year, Apple has sold $38.9 billion of iPhones and $35.3 billion of other stuff.
It wasn't always that way: In calendar year 2008, the iPhone's first full year on the market, the smartphone accounted for just under 9% of Apple's overall revenue. The iPhone's importance has been rapidly growing since then, even after Apple started selling the iPad in 2010 — another multi-billion dollar product.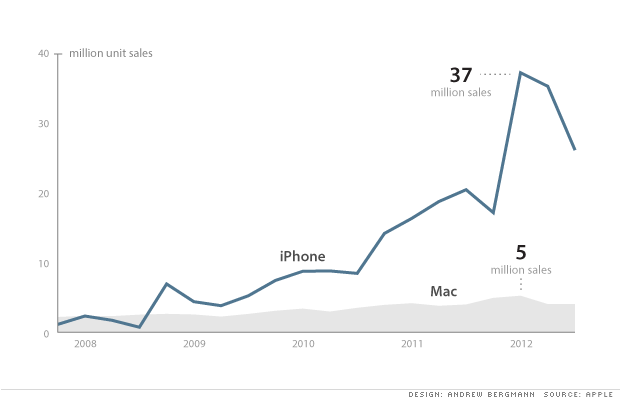 For most of Apple's 36-year existence, the Macintosh has been its biggest and most important product. Even several years ago, when Apple was selling tens of millions of iPods per quarter, the iPod was mainly viewed as a "halo" product that led new Apple customers to also buy a Mac.
No one views the iPhone as a gateway product. In the quarter that the iPhone 4S debuted, Apple sold nearly twice as many iPhones as it had ever sold iPods over the course of a three-month period. That quarter, iPhone outsold the Mac by a factor of seven.
To put worldwide iPhone sales into perspective, last year Apple sold as many iPhones as there are households in the United States.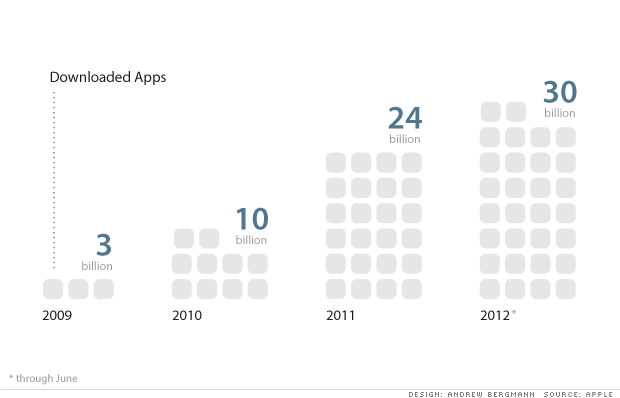 Apple originally didn't allow third-party apps on the iPhone. This year, Apple's iTunes App Store is on pace to generate $4.5 billion in revenue for developers, according to IHS iSuppli. Apple takes home a 30% cut of those sales.
Opening up its operating system to app makers turned out to be a pretty good idea.
It didn't take long for the third-party app model to blossom. Users downloaded just 10 million apps in 2008, the first year that Apple opened up its smartphone to third-party apps. But the downloads kept on adding up. There have now been 30 billion apps downloaded since the iPhone launched its App Store four years ago.
Apple currently has 650,000 apps available in its App Store, the most for any mobile platform.
PARTNER LINKS: